.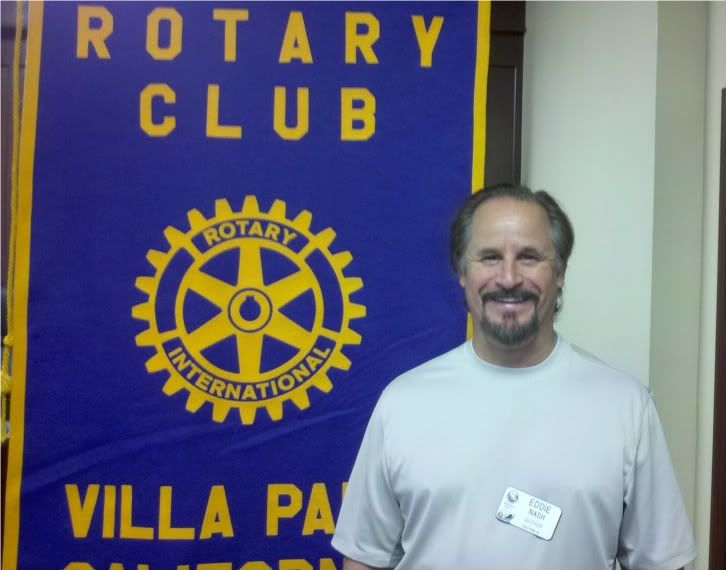 Rotary Club of Villa Park Newsletter
Bryan "Eddie" Nash Takes the Helm
Operation Hope's Jennifer Trubenbach
Opening Ceremonies:
Invocation: Bryan "Eddie" Nash
Pledge of Allegiance: Craig Beinlich
Rotary Four Way Test: Jane McDonald
Song: God Bless America
Guests:
Sofia Galiardi- Lesslie Giacobbi's grand daughter from Italy
Marsha Leeg- visiting from Nevada
Dale Dagley- Guest of Bryan Nash

Danny Friedel- Guest of Bryan Nash

Jennifer Trubenbach- guest speaker
Birthdays & Anniversaries:
Art Dunn -celebrated a recent birthday
Mark Schmidt celebrated his birthday several days ago at a restaurant in Santa Monica
with his familly, tonight he's celebrating a joint birthday with his neighbors.
Peter Giacobbi has a birthday in the next day or 2
Steve & Lainey Stern celebrated their 47th wedding anniversary with dinner at Marche Moderne.
Announcements:
Steve Stern announced a club dining out at Ale Roma Cucina on August 1st- cost $20/person
to include appetizer, salad, entre and hopefully desert. The restaurant is located on
Chapman Ave across the street from Fred Kelley Stadium. RSVP to Steve or
sign up at next week's meeting. We hope to have about 30 diners.
Ed Carter- reminded us that the Angel's End Polio Now game will be on August 20th.
See Ed for tickets.
Bob Meyer- will be addressing the club on July 28th about his experiences as a glider
pilot during World War II. Bring potential members.
Jill Kuli- Community Service- says that during the slower summer months we will still be
doing monthly dinners at the Ronald McDonald House and Meals on Wheels.
Linda Bartrom-Olsen sent a copy of the Presidential Citation to the incoming Interact Board
Nagy Ibrahim announced that Teri Brooks will be speaking next week on Gems.
July 21st Congressman Ed Royce will speak on Hot Topics in Washington, D.C.
Juyly 28th- Bob Meyer will speak on "Service with Honor"
Jane McDonald- President-elect and Chairperson of the upcoming Fall Festival.
Jay Applebaum will be in charge of the Raise the Paddle/Heads or Tails
Wayne Silzel will be in charge of the baskets
Tom Grundy will head up Mystery Bags
Jill Kuli will do the programs which will contain ads and a list of donors
Jane is encouraging everyone to do what they can to help support this event
donation checks can be given to President Bryan, Pam Dunn or Milt Stamos
Jane will begin to hold meetings after July 23rd to get into the details.
Happy Bucks:
Bob Kreisberg moved his office this week and discovered that the women in the property
managers office had some sad news. Her sister's husband had been killed in Afghanistan
and she is 7 months pregnant. Bob suggest we look into what our club can do to
help- possibly an adopt a family program.
Bob Meyer- commended Marianne Koepnick who is always there to lend a hand with
his packages for the troops.
Jane McDonald thanked Diane Rothi for her generous donation toward the Fall Festival.
Greg Mills/ Immediate Past President finally got to have his breakfast while the food was
still warm.
Pete Moriarty commended Stan Van Den Berg for helping the club get a Presidential
Citation for our International Service Projects. He wants us to do it again this year.
Drawing $830 in the pot- Sofia drew a 6
Speaker: Jennifer Trubenbach, Project Hope
The Power of Smiles
Jennifer is the Executive Director of Project Hope an organization begun by her father, a reconstructinve surgeon. The organization has been around for 23 years and provides surgical reconstruction for cleft lip, tumors and traumatic injuries to children and adults. Over the years they have made missions to latin america, India, Viet Nam and Zimbabwe. Jennifer spoke mainly about the missions to Zimbabwe which started in 2006, making two trips per year. During these missions the surgical team will perform 50- 80 surgeries/week. Jennifer and her brother share the job of organizing, fund raising and in Jennifer's case managing the operating room. The locals refer to her as "Sister ChopChop". Because of the culture in zimbabwe, where wwitch doctors still hold sway, children with deformities are often "left for the Jackals". Although being 79 Jennifer's dad Dr. Joe Clawson still plays a very active roll, performing surgeries and training young surgeons to do the
work. Dr Clawson has never accepted a fee for any of the surgeries he has performed on these missions. Jennifer estimates the cost to send a surgical team to Zimbabwe is about $65,000 US Dollars.. Since visiting with our club Jennifer has learned that rotary clubs are an important resource
for funds and logistical support. She has made contact with several local clubs in Zimbabwe and will give us their contact information so we can look into putting together an International Matching Grant. To learn more check out the Operation Hope Website at: www.operationofhope.org.
Jennifer Trubenbach of Operation Hope
Next Week's Meeting:
Speaker: Teri Brooks Topic: Gems and Gem Evaluation